Resident has lucky escape following e-scooter house fire
Published: 25 May 2023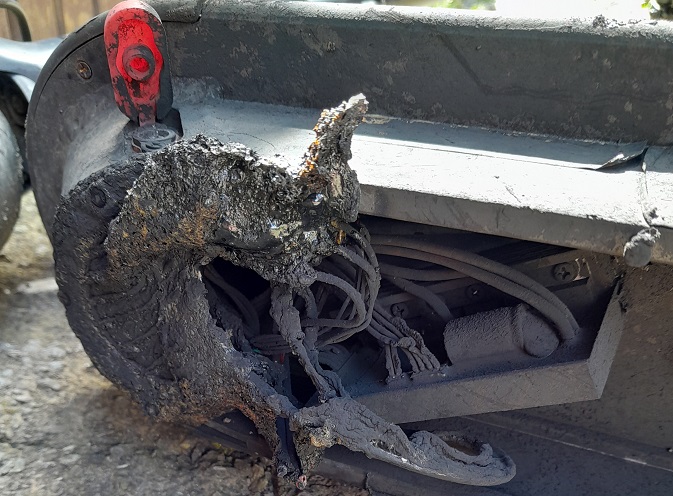 One of our residents had a lucky escape this month after their carpets was charred following a house fire caused by an e-scooter being charged.
The resident left his scooter charging in the living room, but came back to see his carpets damaged.
If he hadn't spotted it and reported it to the local fire brigade, it could have been a lot more serious.
Please share these pictures and advice to anyone who has a similar vehicle.
DID YOU KNOW?
Fires sparked by faulty e-bikes and e-scooters have injured at least 190 people in the UK and killed eight since 2020.
In some circumstances we may recharge you the cost of a repair if the damage is caused by a deliberate, accidental or careless act or neglect or misuse of the property.
E-scooters are classed as motor vehicles under the Road Traffic Act 1988. Which means the rules that apply to motor vehicles, also apply to e-scooters including the need to have a licence, insurance and tax. It's not currently possible to get insurance for privately owned e-scooters, which means it's illegal to use them on the road or in public spaces.
As e-scooters are classed as a motor vehicle, they must be stored and charged outside the property on a properly constructed hard standing, as part of your tenancy conditions.
HOW TO CHARGE YOUR E-SCOOTER SAFELY
E-bikes and e-scooters are becoming increasingly popular.

It is important when charging e-bikes and e-scooters, you do so safely to avoid a risk of a fire starting and putting your families and homes at risk.

On occasions batteries can fail catastrophically, they can 'explode' and/or lead to a rapidly developing fire.

The incorrect disposal of lithium-ion batteries in general household and recycling waste can also lead to significant waste fires.

We would urge you to only charge the batteries whilst you are awake and in an outside location. Ideally a smoke detector should be installed close to where the lithium/ion battery is being charged to provide early warning.

FIND OUT MORE
You can find further guidance online through the National Fire Chiefs Council website.