Couple renew vows at Parkland View
Published: 1 April 2023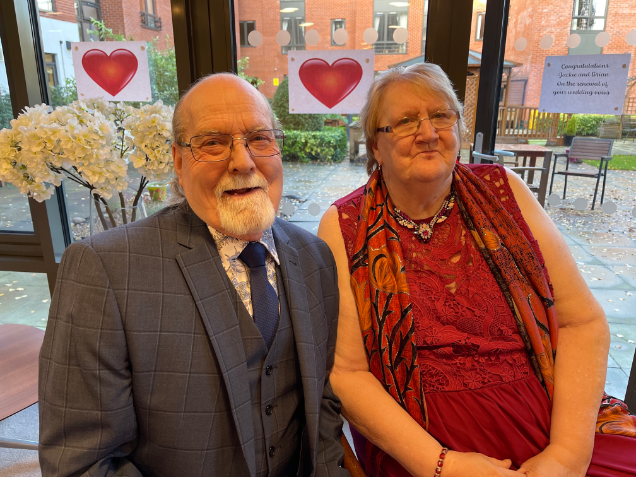 A huge congratulations to Parkland View residents Jacqui and Brian who renewed their wedding vows in front of family and friends.
Anita from St Peters Church and Kate, Chaplain for Parkland View, held a beautiful and moving service in the lounge overlooking the garden. This was followed by a celebration in the restaurant.
The happy couple met and married in Hull on 23 November 1968 and moved to Derby in 2011.
While living at Rivermead House they watched the construction of Parkland View on the site of the old bath St Mills building that dramatically burnt down in July 2009.
They successfully applied for extra care accommodation and moved into their new flat on 22 August 2016.
The couple now enjoy their spacious flat, the views of the garden and river and the lively community at Parkland View.
Brian describes the residents at Parkland View as being like part of one big family. He also runs the weekly indoor bowling sessions with his friend Colin. Meanwhile Jacqui is very involved with the Chaplaincy sessions, Mindful Arts and Crafts and the bingo sessions.
Best wishes to you both!