100 Years of Council Housing
Published: 1 August 2019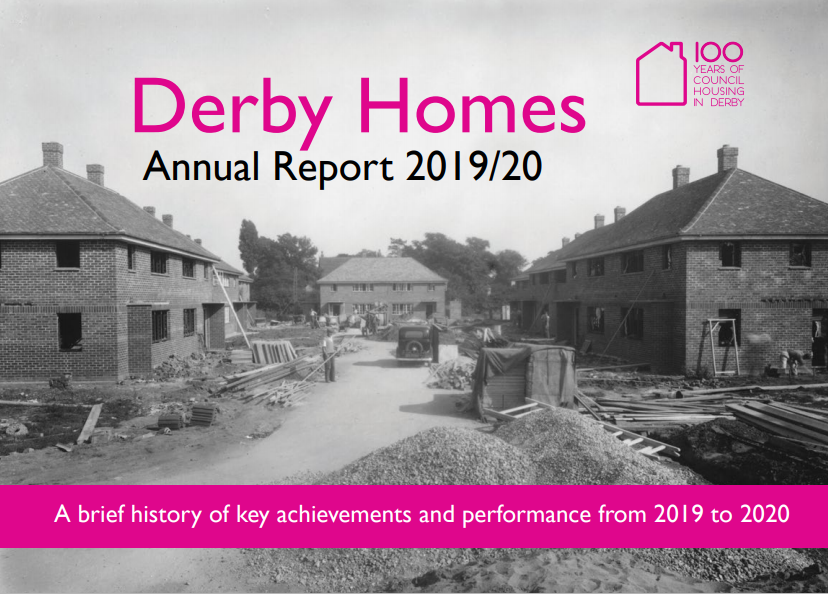 2019 marked 100 years since the first council houses were built in the UK. In Derby, we handed over the keys to our very first council homes on Victory Road in February 2020. If you live in one of our properties, then you're part of that history. Your house, street, neighbourhood and city all have rich, interesting stories and are part of a wider national history of council housing that spans the last century.
This is a brief summary of the history of council housing in Derby.‌
The 1919 Housing Act
In 1918, the end of the First World War had created a huge demand for working-class housing in towns throughout Britain. Parliament passed an ambitious Housing Act in 1919, which promised government subsidies to help finance the building of 500,000 houses within three years. Before this act, many people lived in "slum housing": closely packed homes that were in a poor state of repair, often without adequate sanitation services, clean drinking water or reliable electricity.
Concerns that poor housing was negatively affecting the nation's health led to state intervention. This single Act led to the clearance of more slums than at any time before it, and saw 700,000 new homes built nationally.
20th Century Housing in Derby
Slum clearances in Derby began in the 1890s (the same decade that saw the town get its first electric streetlights). It's probably no great coincidence that the decision of Rolls-Royce to move to Derby in 1907 is the reason why the first council homes were built close to the factory in Osmaston and Allenton.
Early housing developments were in the areas of Osmaston, Normanton, Stenson Road, Sinfin, Allenton, Alvaston and Chaddesden (Roe Farm). Housing types even included some non-traditional, cast-iron homes in Osmaston and Allenton, with parts manufactured by Newton Chambers and Co., Sheffield. From 1920 to 1939, the Council had built 7,064 homes. 6,834 of these were let, 211 sold, 16 were destroyed by enemy action and three were demolished for other reasons. This was a key period of housing development and we often refer to the house types built at this time as "pre-war" homes. By 1939, the housing need of the Town was reasonably met.
World War Two
During the war, building ceased for six years, which led to a serious housing shortage. When the war ended, the waiting list of families without a separate home exceeded 7,500.
Early solutions to this shortage included the prefabricated, flat-packed "Hawksley" bungalows that could be erected in just days.
Derby remained ambitious in its desire to build homes as quickly as it could. The Council continued to look to non-traditional designs of housing to cope with demand. By 1949, Derby had already built 1,000 new homes and the completion of Rivermead House in 1965 marked the council's 10,000th post-war dwelling.
This period of building included areas such as the Chaddesden Hall, Boulton Lane, Shardlow Road, Sunnyhill and Allenton estates. Many of these newer developments featured more modern layouts and some shopping areas.
The largest post-war estate built by the Council was Mackworth. On a site of 450 acres, a total of 3,000 new homes were built in a short space of time (2,500 of which were let by the Council).
Changing Demand
Building on this scale would never be matched, however the types of homes that were being built in the late 60s and into the 70s and 80s changed, as the council recognised the changing needs of the population. This saw a decrease in family homes and a greater diversity of developments, including flats and sheltered housing purposely built for the ageing population.
Council housing stock peaked in the early eighties, and as large-scale building trailed off, the new, right-to-buy policy meant that the number of council homes available to rent began a steady decline.
The 21st Century and Beyond
The creation of Arm's Length Management Organisations (ALMOs) provided an opportunity for a more fundamental change in the nature of council housing, with higher quality management, more effective investment and greater involvement of tenants.
Derby Homes was formed in 2002 and was only possible because of the Excellent '3-Star' rating, following inspection by the Audit Commission. This gave the city access to "Decent Homes" funding and the ALMO began a huge programme to improve the council's remaining stock of around 15,000 homes.
17 years later, in a new partnership with the council, we've delivered over 400 council houses (with the first built in 2009) and 2020 will see the 100th home build by our very own in-house team.
Read more in our 100 Years of Council Housing in Derby - History Booklet